Expand Your Global Footprint
Expanding access to global customers and markets is a driving factor for digital transformation and is a significant trend for businesses today. Enterprises and small businesses moving towards digital transformation have been dissolving traditional IT infrastructure into hybrid cloud applications scattered across multiple cloud platforms like AWS, Microsoft Azure, Google Cloud Platform (GCP), and others, while maintaining a subset of applications on-premises behind firewalls. Often there is a heavy reliance on one cloud platform with satellite applications on other clouds. This transformation increases the digital footprint which is holding sensitive data and intellectual property and spreads this data across multiple locations external to the typical corporate security perimeters.
Embarking on this digital journey represents an opportunity for most enterprises to leverage Managed Service Providers or System Integrators.
Scale Up Quickly
Providing access to perimeter-less hybrid infrastructure and digital footprint for on-site or remote System Integrators (SI) and Managed Service Providers (MSP) teams is becoming more urgent, and more of a challenge, due to innovation requirements for custom software projects. Demand for expertise is driving IT Service providers to globalize where local, regional, national or international contractors could be engaged. Access technologies like VPN and VDI positioned the contingent workforce as a primary contributor toward the disruption of the IT Services Supply Chain. It's not uncommon for an enterprise software development project to use offshore talent or to leverage stateside insourcing. Globalization of IT service delivery has produced an explosion of access to talent pools. The disruption toward a consumer buying style for IT service delivery has also created a significant cybersecurity concern for national and international business practices.
Another effect of Globalization of an IT Service Supply Chain impacts the IT procurement team which now must consider data sovereignty and legal compliance over privacy when assessing vendor relationships in most regulated business. The exponential increase of breaches and exfiltration by insider and third-party threats has changed the risk tolerance in most companies who outsource IT service delivery. National and international legislation over cybersecurity and compliance have created ramifications in the billions of dollars based on exfiltration of sensitive data and breach of data laws recently implemented.
MSPs competing for IT services today require true differentiation. Traditional IT service procurement decisions have typically involved price evaluations for services rendered, evaluation of industry knowledge and experience, expertise in new technologies, and the ability to successfully deliver end-to-end projects. Today's speed of business in the pursuit of digital transformation has changed that decision process profoundly when discussing cloud technologies and global markets — this explosion of access to talent from an economic model can be that of supply and demand. Where supply is abundant, you should expect workloads to shrink from contract to contract as core project/ticket activities become increasingly competitive based on the proliferation of services availability.
Differentiation in a saturated IT Supply chain requires the IT Service Provider to focus on the customer and the relationship the provider is fulfilling. The trust built or established with the customer presents an opportunity to differentiate services with the ability to integrate solutions to partner with the customer vs. just providing services to the customer.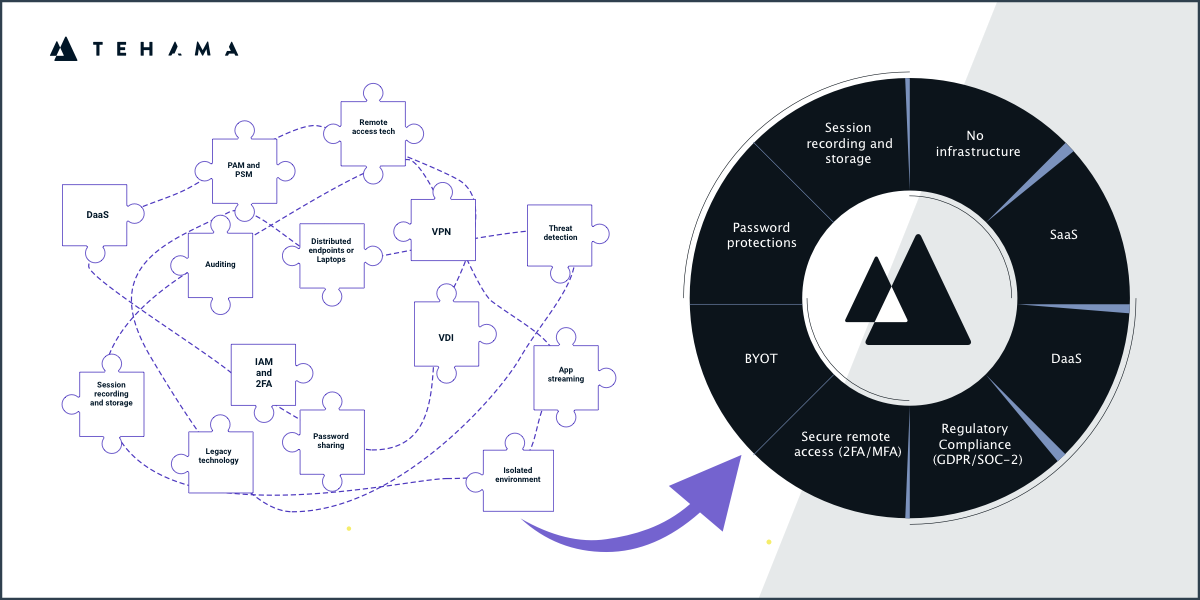 Be Secure and Compliant—Anywhere, Anytime
Tehama is a service delivery platform that provides MSPs and SIs that differentiation. Tehama is a multi-party platform involving all aspects necessary to secure and simplify IT services delivery from Anywhere to Anywhere. With Tehama, MSPs and Services Buyers can trust work (digital services) can be performed with compliance and security regardless of location without incurring capital expenditures. Tehama focuses on reducing, securing, and encrypting the intermediaries between the end-user and the resource.
Moving your MSP/SI practice to Tehama has immediate benefits for IT Service Delivery:
Cost Reduction - No more customer equipment for security, i.e., laptops or VPN Connections

Time to Production - 1 hour or less, you can deliver production value

Agility & Cadence - Match resource needs immediately. Contractor and Customer onboarding

Reduce Risk and Exposure – Reduce threat surface for customer and provider

Time to Value - Deliver immediate production value

Time to Return - Deliver immediate ROI from the Tehama utility-based pricing

Scale your Projects Up and Down - Use Tehama's elastic model to quickly and easily adjust your resources as project scope grows or shrinks

Security - NIST 800-171, CSF Framework Aligned

Compliance - SOC 2 Type 1 & Type 2, PCI Tehama rooms, GDPR, Data Sovereignty
Obtaining a Tehama "Ready to Work" status aligns MSPs and Service Providers with security guidelines for over 200 companies already benefiting from the platform.
If you're an IT Service Provider looking to perform IT service delivery faster, and with a stronger security and compliance posture, Tehama is the opportunity to change the conversation with your customer. Secure and Simplify your IT service delivery.

The Tehama team will be at MSP Expo in Fort Lauderdale Jan 30-Feb 1. Stop by or schedule some time to talk about how to simplify and secure your service delivery.