The coronavirus pandemic has, over the past few weeks, reared its ugly head again in earnest. Infections in Europe have steadily climbed, U.K. Prime Minister Boris Johnson imposed new restrictions as the country reported its highest caseload since early May, and the death toll in the U.S. reached a grim milestone of 200,000. And it's not even winter yet.
This is bad news on multiple fronts: For public health, for the economy, for mental health, and – maybe most significantly – for our the most vulnerable in our society. It also suggests that many of us will have to work from home for far longer than initially anticipated back in February and March.
But how do actual employees feel about what could be an extended (perhaps indefinite) stay in their home offices? Do most simply tolerate remote work for the time being, or are they in it for the long haul?
With these and other questions in mind, Tehama recently commissioned a pulse survey among North American full-time employees from various organizations across multiple industry verticals. We wanted to gauge how they really feel about the situation – and if they think their companies have put them in the best position to succeed while working remotely, from both technology and work culture perspectives.
Methodology
Tehama's comprehensive pulse survey conducted in September 2020 included more than 700 male (49%) and female (51%) full-time employees across North America. The survey was conducted at 95 percent confidence with a +/- 4% margin of error.
Key Findings: Employees love remote work
Respondents overwhelmingly support remote work, with 97 percent agreeing it saves them time and money by reducing or eliminating their daily commute (by one estimate, Americans have collectively saved as much as $758 million per day in this way). Respondents also indicated they've become so enamored with remote work that a quarter of them would search for another job if their employer doesn't allow it once the pandemic has subsided.
Aside from saving time and money, remote work also opens new pathways for talent to connect with organizations – and the survey results reflected this, as well. Sixty-eight percent of respondents agreed job opportunities would vastly increase if more employers allowed permanent remote work, and 84 percent indicated companies should allow remote work to eliminate geographic hiring restrictions. Additionally, 90 percent said remote work enables better financial prospects for workers who can make better incomes while living in lower-cost locations. And a further 86 percent indicated that broader adoption of remote work would likely allow companies to allocate more money to salaries instead of overhead.
Tehama CEO Paul Vall​ée touched on these and similar topics at our Digital by Default Summit this past July. He outlined how the pandemic has forced organizations to reimagine their workforces and workplace strategies – including finding new ways and opportunities to acquire and retain talent, along with remote work's uncanny ability to accelerate internal diversity and inclusion goals. Research shows that the decentralized nature of most remote teams lends itself to improved diversity among employees, and can help eliminate gender bias from the workplace.
Organizations are falling behind the remote work curve
Our respondents, however, were markedly less positive about the ability of their employers to deliver effective and secure remote work solutions. Thirty-two percent of respondents said their company doesn't provide the right technology to enable permanent remote work. And a further 32 percent indicated that their company doesn't have nearly enough security and compliance protocols in place – especially considering the sharp spike in cybersecurity issues that cropped up during the mass migration to remote work earlier this year.
Similarly, half of respondents reported that remote access to important company data and materials needed to do their job is often difficult and time-consuming under their organization's current technology stack.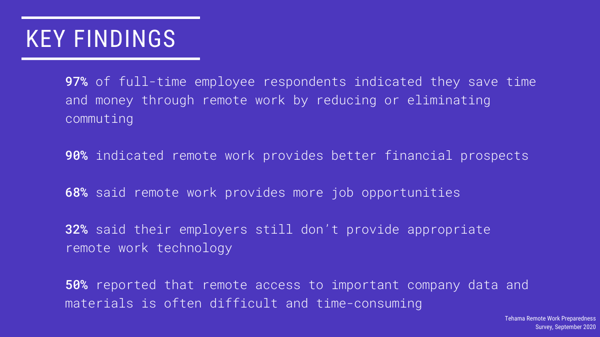 How Tehama gets organizations up to speed
The good news, however, is that Tehama solves all of these problems and then some. Tehama's secure and compliant virtual rooms and desktops are accessible from any device, anywhere in the world, with an internet connection. Tehama can get one, 100, or 1,000 remote employees up and running securely in minutes – a far cry from traditional DaaS or VDI setups which often take months of tweaking, or the security, supply, and time lag implications of couriering laptops cross-country. Our cloud-based SaaS platform can also be scaled up or down quickly through a pay-as-you-go payment model and no CapEx, allowing organizations to adjust their infrastructure needs seamlessly without heavy technology investments.
But maybe the best part? Tehama's built-in security controls means organizations don't have to worry about their employees working on their own devices or from unsecured networks, thanks to secure perimeters, least privilege permissions, automated encryption, malware protection, and Zero-Trust network isolation. And its SOC 2 Type II and other compliance controls allow for highly regulated and easily auditable work environments from virtually anywhere.
Like it or not, remote work en masse is clearly here to stay. And in a post-COVID world full of employees who now realize they enjoy remote work – and in many cases are more productive, too – organizations need the right technology to keep their edge in terms of talent acquisition and retention, productivity, security, and compliance.