Two of the most critical events in the End User Computing (EUC) space are coming up soon. We are thrilled that this year Tehama is a Silver sponsor of IGEL's two DISRUPT EUC events in Nashville (January 27-29) and Munich (February 4-6).
Last year we attended DISRUPT EUC Santa Clara and were so impressed that we knew we had to sponsor IGEL's 2020 partner conferences.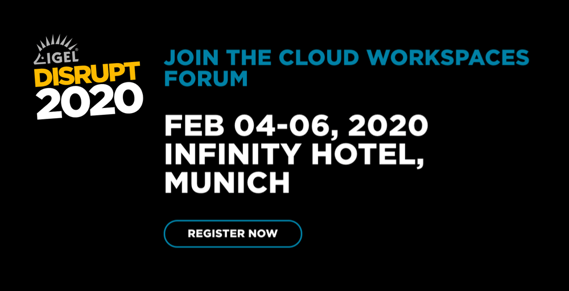 In a recent Q&A with VMblog, we talked about how IGEL provides a forum for agnostic discussions about End User Computing and Business Needs by bringing together a base of customers and partners who are experts in the field and give a lot of value/expertise, covering the hottest EUC topics. We're also looking forward to the lineup of EUC speakers at both events—they include industry thought leaders, technology disruptors, and analysts that have tremendous insights and contribute to valuable research.
Jaymes Davis, Tehama's Director of Project Strategy, also wrote a blog post on how we collaborate with IGEL to further enhance the complete "chain of trust" that they're known for, something that is so essential to EUC today.
At DISRUPT, we will demonstrate how to build a virtual Tehama Room in minutes to provide Global Workforce Enablement, Supply Chain Security, PII & Intellectual Property Protection, High-Risk Region Operations, and Business Continuity.
Representing Tehama in Nashville are:
Craig and Simon will also be available for meetings and demos at the Tehama booth for DISRUPT EUC Munich.
If you'd like to book a meeting in advance of the show, contact us, and we'll reach out to schedule some time, and if you'd like to learn a little bit more about Tehama before the show, you can download our eBook here.