A few weeks ago (May 29-30, 2019) Gartner held their inaugural Digital Workplace Summit in Orlando. In Europe, Gartner has been running the Digital Workplace Summit for years.
The Gartner Digital Workplace Summit gathers thought and technology leaders of employee engagement, experience, and digital workplace to discuss the latest developments and perspectives on collaboration, user experience, and the future of work solutions.
In North America, the Gartner team was conservative on their objectives for attendees for this first event. They initially targeted 350 attendees and successfully doubled the number of attendees. This is a strong testament to the changing dynamics in work and the digital work culture.
During their keynote speech at the end of day 1, Gartner stated that surveyed CEOs said the
"Number 1 Internal Growth Constraint Is Talent," and surveyed CIOs said, "Top Barriers to Success are Culture, Resources and Talent.
A key theme of the Digital Workplace Conference was the rapidly evolving work and workforce. Skill requirements are ever changing, more and more employees need IT skills, and skills required to innovate are hard to acquire. Hence, driving demand for more automation and external or gig workers. Moreover, almost 30% of workers in North America are remote. Here is a visual draft from Gartner's keynote presentation at the end of the first day of the conference. I shared as it illustrates an urgent change in the workforce dynamic and tools required to evolve the digital workplace.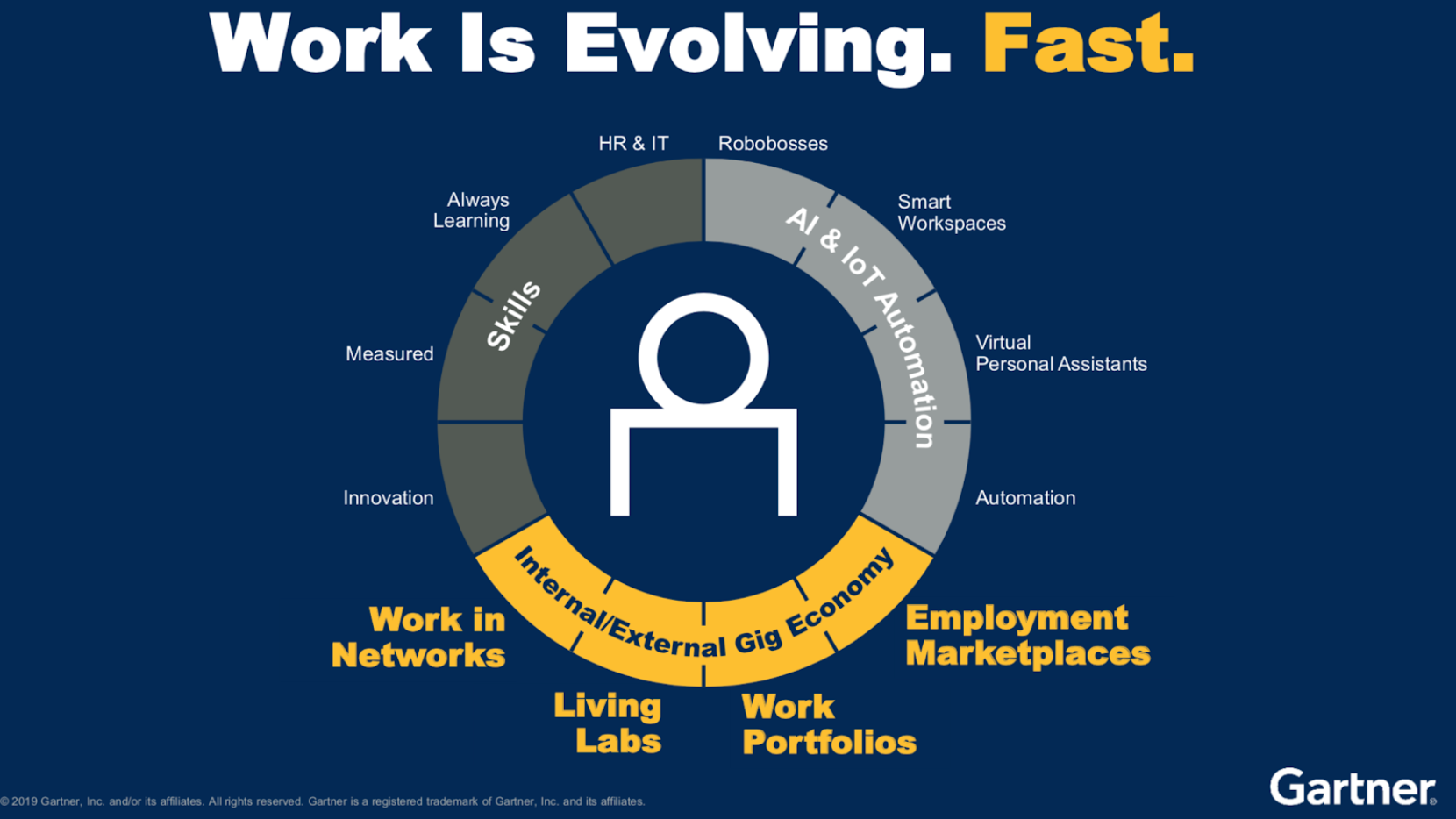 All of this research points to organizations needing to change how they engage the global talent pool, how quickly they engage, and where they source the talent. With access to talent being a major barrier to growth, organizations have no choice but to look for resources across the globe. Tools that will let them securely work with remote teams or work from home employees will be important for organizations to continue scaling their businesses.
Another key theme of the Digital Workforce Summit was cloud security. Many enterprises are still concerned about major cloud service providers' security posture. While at the summit, a lead analyst for Gartner, Marc-Antoine Meunier presented the realities of cloud security and shared the following on the blunt reality of public cloud security.
"Gartner clients are not being impacted by CSP security failures:
Tiny number of small CSPs suffered security incidents

Virtually no confidentiality loss documented within paid-for cloud services
There is no benefit in putting a huge effort into CSP security assessment

Almost all cloud security failures can be attributed to customer actions:

These are preventable security failures
Secure use of public cloud computing requires new policy, process and people
Most Gartner clients are spending too many resources on the wrong cloud security tasks. "
Meunier went on to recommend to "spend less time on questionnaires:
Try to avoid meaningless exercises in paper collection
If you must use a questionnaire, use shared assessments or cloud security alliance
Use on-site formal assessment (SOC2/27001) when offered:
You don't need to ask additional questions that are already addressed – read the detailed report."
Essentially, Meunier is saying the cloud is more secure than you think and to stop doing paper chases with vendors who have detailed SOC 2 or ISO reports that are audited and created by a recognized and reputable organization. However, he doesn't say use the cloud blindly. He still recommends you apply security practices, policies, and constrain many of the default sharing functions to protect your data.
I was thrilled with this new research and guidance for organizations as Tehama is leading the future of work with a SOC 2 Type II certified platform (certified by Deloitte) and enables organizations to quickly onboard, scale, and secure remote teams so that organizations can quickly access the talent they need to scale their businesses. To learn more about Tehama read my recent white paper.