Like all organizations across the world, we at Tehama are facing an unforeseen and uncertain period as we confront the COVID-19 crisis.
At Tehama, we've been proactive in preparing and taking action since January, in terms of both raising global awareness of COVID-19 and supporting our employees. Using resources from the World Health Organization & Ottawa Public Health, we shared hygiene tips, ensured the availability of hand sanitizer and encouraged our team to be mindful of our community and take care by staying home if they were unwell.
As leaders, a strong presence right now is more important than ever. Our global employees and clients rely on us for business continuity through digital systems and infrastructure that will enhance and empower them in this new, rapidly changing world.
As a people leader, our global employees absolutely rely on us to use our global strength to help set the example during this uncertain time. That's why – working closely with HR, our executive team, and community partners like the Canadian Council of Innovators (CCI) – we successfully transitioned into a fully remote, global team as of Monday, March 16.
To enhance and empower our teams during this transition to a fully remote workforce, we increased their annual productivity budget considerably. This allowed them to acquire the equipment, tools and technology necessary to succeed during this extraordinary time.
To drive camaraderie and community as we transition into a global remote workforce, we took small steps such as setting up a Slack channel for remote teams, which all our team members have now joined. Its effect was immediate – our team is engaged and are sharing articles, tips & other files to help support each other, share laughs and stay grounded. We're also having fun by challenging teams to show off their remote spaces, and to say hello at our daily virtual cafe (at 12 noon ET/9 am ET) to enhance global community and connections.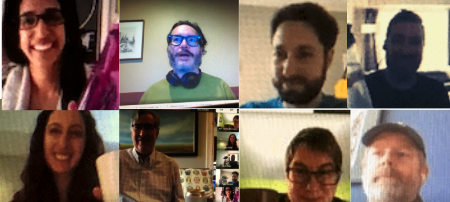 Community is more important now than ever – even in this new landscape of digital social distancing. I encourage everyone to reach out to those in your organization and your close external network to check in, because we are all walking this time together.
Tehama will also help give back to our local community by hosting a digital concert with the Piano Man next Wednesday @11:30 am ET during our monthly Tehama Town Hall. The current global movement towards social distancing has hit artists and musicians hard, and we're doing what we can to support them.
As I reflect on this time, it's clear more than ever that we're all in this together – one globe coming together to help flatten the curve.
We've got a live webinar coming up soon, and it's all about Remote Work.
Click here to learn more.